Lo
ok at this graph and be afraid. It does not come from Earth First. It does not come from the Sierra Club. It was not drawn by Socialists or Nazis or Osama Bin Laden or anyone from Goldman-Sachs. If you are a Republican Tea-Partier, rest assured it does not come from a progressive Democrat. And vice versa. It was drawn by the United States Department of Energy, and the United States military's Joint Forces Command concurs with the overall picture.
What does it imply? The supply of the world's most essential energy source is going off a cliff. Not in the distant future, but in a year and a half. Production of all liquid fuels, including oil, will drop within 20 years to half what it is today. And the difference needs to be made up with "unidentified projects," which one of the world's leading petroleum geologists says is just a "euphemism for rank shortage," and the world's foremost oil industry banker says is "faith based."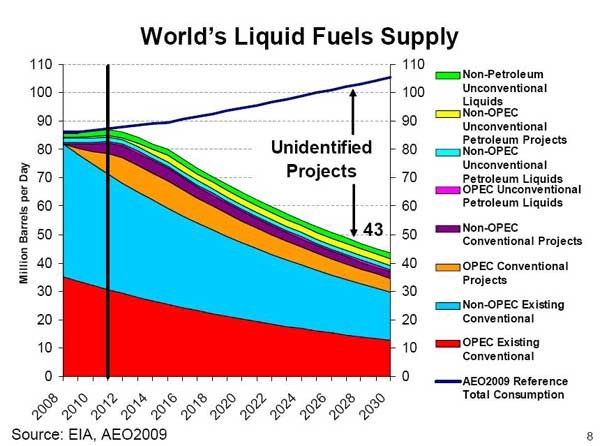 http://www.eia.doe.gov/conference/2009/session3/Sweetnam.pdf
This graph was prepared for a DOE meeting in spring, 2009. Take a good look at what it says, assuming it to be correct:
1`. Conventional oil will be almost all gone in 20 years, and there is nothing known to replace it.
2.. Production of petroleum from existing conventional sources has been dropping at a rate slightly over 4% per year for at least a year and will continue to do so for the indefinite future.
3. The graph implies that we are past the peak of production and that there are750 billion barrels of conventional oil left (the areas under the "conventional" portion of the graph, extrapolated to the right as an exponent ional). Assuming that the remaining reserves were 900 billion or more at the halfway point, then we are at least 150 billion barrels, or 5 years, past the midpoint.
4. Total petroleum production from all presently known sources, conventional and unconventional, will remain "flat" at approximately 83 mbpd for the next two years and then will proceed to drop for the foreseeable future, at first slowly but by 4% per year after 2015.
5. Demand will begin to outstrip supply in 2012, and will already be 10 million barrels per day above supply in only five years. The United States Joint Forces Command concurs with these specific findings.
http://www.jfcom.mil/newslink/storyarchive/2010/JOE_2010_o.pdf
, at 31. 10 million bpd is equivalent to half the United States' entire consumption. To make up the difference, the world would have to find another Saudi Arabia and get it into full production in five years, an impossibility. See The Oil Drum,
http://www.theoildrum.com/node/5154